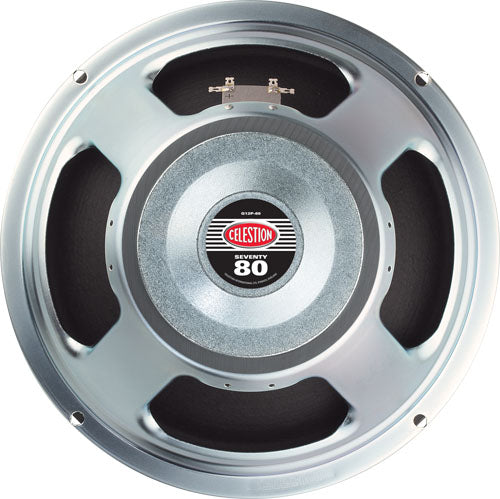 Celestion Seventy 80 Guitar Speaker - 12" 8 Ohms
One of Celestion's best sellers, this speaker meets the expanded frequency range often requested by the new generation of amp manufacturers.

The Seventy 80 is detailed and crisply defined, with a tightly controlled low-end and punchy, aggressive upper mid-range. The top-end response is also subtly increased. Used singly, in pairs or quartets- it is a capable of reproducing a wide range of sounds and styles whilst adding the undeniable Celestion character to any amp.
General Specifications
Nominal diameter
12", 305mm
Chassis type
Pressed steel
Voice coil diameter
1.75", 44.5mm
Voice coil material
Round copper
Magnet weight
31oz, 0.88kg
Frequency range
80-5000Hz
Resonance frequency, Fs
85Hz
Mounting Information
Cut-out diameter
11.1", 283mm
Magnet structure diameter
5.3", 134mm
Mounting slot dimensions
0.31", 7.9mm Ø
Mounting slot PCD
11.7", 297mm
Number of mounting slots
4
Overall depth
4.7", 119mm
---
Share this Product